We Are a Reformed Church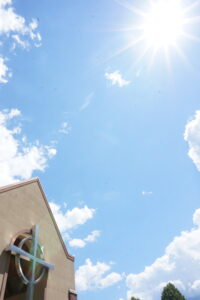 That the Holy Scripture is the perfect, complete, and final authority which contains the will of the Triune God and is given to mankind by the one and only God so that we are able to discern everything required for salvation.
That Scripture from Genesis through Revelation reveals the sovereign God of the universe and how He has called us into covenantal relationship to Himself and his people through the giving of His one and only Son, the Lord Jesus Christ.
That the man Christ Jesus is God in the flesh, has fulfilled all righteousness, died upon a cross, rose from the dead, and sits at the right hand of the Father. He will return at the Second Coming to restore all creation, to judge the wicked and the dead, and to claim for all eternity those who have placed their faith and trust in Him.
That God justifies the sinner who is in a fallen state of sin and is unable to do anything to save himself. God declares the sinner righteous based upon the total, complete, and perfect work of the Lord Jesus Christ and, because of God's gracious mercy, the sinner becomes the adopted son of God, receives the forgiveness of sin, and is given the right to eternal life.
That the purpose of our church is to worship God in Spirit and in Truth, to edify the saints through the preaching of the Gospel, to administer the Sacraments, and to send the saints into the world to make disciples of all nations.
Our church is committed to the Word of God and the truths that it proclaims for holy living.
We Affirm the "Five Solas" of the Protestant Reformation
Sola Scriptura – The Bible is the sole written divine revelation and alone can bind the conscience of believers (2 Tim 3:16-17).
Sola Fide – Justification (i.e. being right with God) is by faith alone. The righteousness of Christ, imputed (i.e. credited) to us by faith, is the sole ground of our acceptance by God, by which our sins are canceled and imputed to Christ (Eph 2:8, 2 Cor 5:21).
Solus Christus – Christ is the only mediator between God and man, and by His works we are redeemed (1 Tim 2:5, Acts 4:12).
Sola Gratia – Our salvation rests solely on the work of God's grace for us (Rom 3:23-24).
Soli Deo Gloria – To God alone belongs the glory, therefore, man cannot boast in his salvation (Rom 11:36, Eph 2:9).
Our Denomination: The denomination of the Presbyterian Church in America (PCA) holds three documents as the doctrinal standards to which we adhere. These documents are: the Westminster Confession of Faith, the Larger Catechism, and the Shorter Catechism. We believe these doctrinal standards are reflective of what the Bible teaches but ultimately the Bible alone is the only final and infallible standard of Truth.