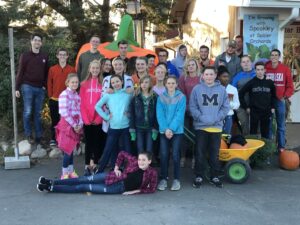 Tyrone Youth Ministry (TYM) is a group of young women and men (6th-12th) gathering together to discuss and learn the Word of God. We desire to strengthen our faith in our Lord and Savior, glorify and love God, serve together, and build lasting relationships. "Love the Lord your God with all your heart and with all your soul and with all your strength and with all your mind, and your neighbor as yourself." Luke 10:27
Wednesday Nights
TYM
Our large group gathering meets on Wednesday nights from 6:30-8:00 for a time of fellowship, games, worship, discipleship, and
teaching. This is a great opportunity for the youth to get to know each other better and to hear how the Bible applies directly to their lives.
Regular TYM on Wednesday nights from 6:30-8:00 pm from September 16 until December 16 (skipping November 25 for Thanksgiving). Book Study -Relationships; "A Mess Worth Making" by Timothy Lane and Paul Tripp
Dec. 2 we will be shopping for our annual Carriage Town Ministries adopt-a-family service opportunity.
December 29-30–A NEW OPPORTUNITY! Senior high students (and the post-high/young adult crowd) are invited to join us for the Cross Conference! This conference exists to educate and stir up young people in the area of missions. Normally it targets 18-25 year olds, but due to COVID, the whole conference will be live-stream only, and there is no age limit for registration. TYM will host the live stream event both days at church. The church will cover all registration costs. More details to come. You can read all about Cross Conference at their website https://crossforthenations.org/
First Fridays
On the first Friday of every month, TYM gets together for a time of fun and fellowship. First Friday events could be anything from board game night at the church to seeing a Flint Firebirds hockey game. 
Friday, October 2nd, 7-9 pm at Uncle Ray's ice cream and mini golf
Friday, October 23rd, 6:30-10 pm- "One-Night Campout" @ church
Friday, November 6th, "Camp Out" from 6:30-10:00 pm at Tyrone Covenant. Dinner, games and fun, bring a friend!
December 4th, TBD.. Christmas party @ Tyrone
2021 Events
January 29-31: The Junction junior high retreat with other Presbytery churches at Cran-Hill Ranch
February 5-7  TBD-Cedar Bend senior high retreat with New City PCA
For more information regarding philosophy of ministry, teaching content, and/or events and gatherings, feel free to contact the Pastor David Groendyk, at pastordavid@tyronepca.org.