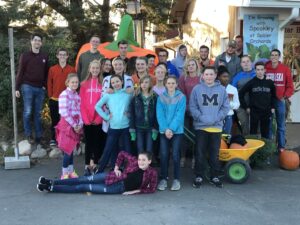 Tyrone Youth Ministry (TYM) is a group of young women and men (6th-12th) gathering together to discuss and learn the Word of God. We desire to strengthen our faith in our Lord and Savior, glorify and love God, serve together, and build lasting relationships. "Love the Lord your God with all your heart and with all your soul and with all your strength and with all your mind, and your neighbor as yourself." Luke 10:27
Sunday school
Our Sunday morning classes meet from 9:00-10:00 before the worship service and provide a more in-depth understanding of the Bible. These classes are meant to spark an interest in the Bible and in God.
Book study
On Tuesday mornings from 10:00-11:00 we're reading through and discussing "This Changes Everything" by Jaquelle Crowe. This book is designed to teach youth how to live more like Christ as teenagers. Join us for the discussion!
TYM
Our large group gathering meets on Wednesday nights from 6:30-8:00 for a time of fellowship, games, worship, discipleship, and teaching. This is a great opportunity for the youth to get to know each other better and to hear how the Bible applies directly to their lives. Currently, we're looking at what it means to be created "in the image of God" in a time of protests and pandemics. During the summer we meet every week at various locations.
First Friday
On the first Friday of every month, TYM gets together for a time of fun and fellowship. First Friday events could be anything from board game night at the church to seeing a Flint Firebirds hockey game. Please check Tyrone's calendar for updates.
Upcoming Events
August 12          TYM at the Brownes' house
August 14          Cops & Robbers mini golf
August 19          TYM at the Groendyks' house
September 11    Fall kick-off event! Photo/video scavenger hunt around Fenton
For more information regarding philosophy of ministry, teaching content, and/or events and gatherings, feel free to contact the Pastor David Groendyk, at pastordavid@tyronepca.org.