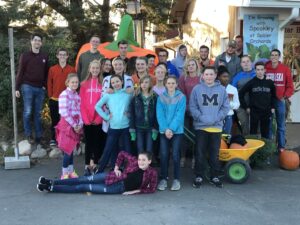 Tyrone Youth Ministry (TYM) is a group of young women and men (6th-12th) gathering together to discuss and learn the Word of God. We desire to strengthen our faith in our Lord and Savior, glorify and love God, serve together, and build lasting relationships. "Love the Lord your God with all your heart and with all your soul and with all your strength and with all your mind, and your neighbor as yourself." Luke 10:27
Sunday school
Our Sunday morning classes meet from 10:10-10:45 between the worship services and provide a more in-depth understanding of the Bible. These classes are meant to spark an interest in the Bible and in God. Our senior high class is studying and discussing biblical ethics from the Ten Commandments while the junior high class is studying who God is and how to have a biblical worldview.
TYM
Our large group gathering meets on Wednesday nights from 6:30-8:00 for a time of fellowship, games, worship, discipleship, and teaching. This is a great opportunity for the youth to get to know each other better and to hear how the Bible applies directly to their lives. Our topic for the winter is "Common Issues that Make Life Hard", looking at everything from self-image to peer pressure to family conflict. 
First Friday
On the first Friday of every month, TYM gets together for a time of fun and fellowship. First Friday events could be anything from board game night at the church to seeing a Flint Firebirds hockey game. Please check Tyrone's calendar for updates.
Upcoming Events
January 6            First TYM of the winter!
January 16          Movie night at Emagine Theater! Showing Wonder Woman: 1984
January 29-31     The Junction junior high retreat @ Cran Hill Ranch
February 5-7       Cedar Bend senior high retreat
For more information regarding philosophy of ministry, teaching content, and/or events and gatherings, please contact Assistant Pastor David Groendyk, at pastordavid@tyronepca.org.