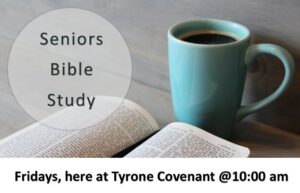 Senior Saints, please join us every Friday morning at 10:00 am for ongoing Bible study. Pastor David Groendyk will be leading us in studying the scriptures.  This is very informal, bring your Bible, a chair (we have folding chairs available), coffee and donuts are always provided.  Please join us for warm fellowship and vibrant study of God's word.
Coming this fall, we will be moving into the building, specifically the youth room. Then we'll begin having game days, potlucks and any other activities that you would like to suggest.  Please contact the church office with any of your questions and suggestions. Again, we look forward to being with you!
Please check the calendar for cancellations due to weather.