TCPC Women's Ministry-Summer
Join us this summer for the following events and please visit the Women's Ministry table in the sanctuary to sign up for
the study and the luncheon!
Ladies Summer Study:
"What's SHE Doing Here?" The Messy Women in Jesus's Genealogy
by Susan Tyner
Ladies, you have several opportunities  to participate in this summer study!
Sunday mornings at 10:10 am beginning June 6th.  We will meet in the library.

Tuesday evening's starting June 8th-July 28th
Time: 6:45 pm-8:00 pm, we will meet in the TCPC sanctuary.See Ellen Bowlin for a book. Please sign up in the foyer and  https://pcacdm.org/messy/ to receive the videos & light homework for discussion.
The PCA Women's Ministry is offering an online women's summer study produced through CDM. The study will run for eight weeks (June/July). When you sign up, you gain access to receive weekly encouragement emails, the weekly teaching video lesson, and discussion questions for free. The PCA CDM will also host several live-streamed relational events so that you can gather with women all over the world to learn together. The book is available online at PCA Bookstore.
Click here for more information and to register.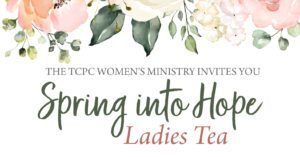 Ladies Tea: Saturday, June 12th
11:00 am to 1:00 pm here at Tyrone Covenant
Guest speaker: Bonnie Caldwell
Nursery is available
There is no cost for this event, RSVP appreciated to secretary@tyronepca.org
Sundaes on Mondays: Mondays, June 14, July 12 & August 9.
6:30 pm at the home of Barb Toonder
Please bring a lawn chair, your Bible and friends are welcome!