When:
February 5, 2019 @ 9:30 am – 11:00 am
2019-02-05T09:30:00-05:00
2019-02-05T11:00:00-05:00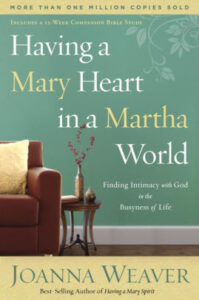 Ladies Bible Study!  "Having a Mary Heart in a Martha World" by Joanna Weaver.                         
Class Leader: Ellen Bowlin. 
Tuesday mornings from 9:30-11:00 am at Tyrone, please meet in the library.
Studies begin October 2nd and come to a close on February 5th.  We will meet every 1st and 3rd week of the month. Please check Tyrone calendar for poor weather cancellation's or date changes due to the holidays.
Books are available from Ellen Bowlin, cost is $11.00.