When:
June 1, 2019 @ 8:00 am – 9:00 am
2019-06-01T08:00:00-04:00
2019-06-01T09:00:00-04:00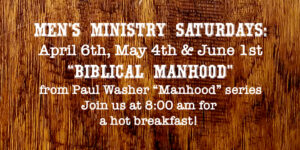 MEN'S MINISTRY SATURDAYS: April 6, May 4 and June 1.
Join us at 8:00 am for a hot breakfast  &  part one of the Biblical Manhood video series from Paul Washer
"Biblical Manhood is a three part series that explores the stark contrast between cultural norms and the clear representation provided in scripture of what it means to be a man. Take a deep dive with us and explore the inner workings of relationships, responsibilities and rewards that come from aligning your views, thoughts and actions to the Word of God."
THE BUILDING & GROUNDS MINISTRY in coordination with the Men's Ministry Team, will host a Spring church cleanup and repair day on the April 6th date.  We will begin the work day after the Biblical Manhood video.  Questions? Please contact Deacon Jeff Brooks for more information.